Global Startup Heat Map highlights 10 Flexible Displays Startups to Watch in 2023
Through the Big Data & Artificial Intelligence (AI)-powered StartUs Insights Discovery Platform, covering over 3 790 000+ startups & scaleups globally, we identified 146 flexible displays startups. The Global Startup Heat Map below highlights the 10 flexible displays startups you should watch in 2023 as well as the geo-distribution of all 146 startups & scaleups we analyzed for this research. Based on the heat map, we see high startup activity in the US and Europe, followed by India and China. These display startups work on solutions ranging from novel substrates and materials to new ways to implement flexible displays.
Interested to explore all 140+ flexible display startups?
As the world's largest resource for data on emerging companies, the SaaS platform enables you to identify relevant technologies and industry trends quickly & exhaustively. Based on the data from the platform, the Top 5 Flexible Displays Startup Hubs are in New York City, Bangalore, London, San Francisco & Berlin. The 10 hand-picked startups highlighted in this report are chosen from all over the world and develop solutions for AR/VR, advertising, communications, and display manufacturing.
10 Flexible Displays Startups to Watch in 2023
Consumer electronics are leading the way in the application of new flexible displays, which are increasingly appearing in smartphones, tablets, wearable devices, and even televisions. However, the automotive industry, advertising, and healthcare sectors are also recognizing the potential of flexible displays for creating more engaging, interactive, and versatile user experiences. Startups and emerging companies are also addressing significant challenges, such as ensuring consistent image quality across different screen orientations, improving manufacturing yield and scalability, and reducing production costs. When it comes to new materials, advances in flexible substrates and conductive inks now make it possible to create thinner, more flexible, and more durable displays.
PanelSemi provides Active-matrix Mini-LED Displays
Taiwan-based startup PanelSemi manufactures active-matrix mini-LED flexible displays for public spaces, museums, and automotive applications. It uses multi-tiling design technology to project 3D content on curved, concave, convex, arc, and cylindrical surfaces. The startup provides creative, interactive, and cost-effective bendable display solutions. These displays are useful for advertising in enclosed spaces like aircraft cabins and yachts. PanelSemi also caters to public spaces, shopping malls, and underwater aquariums to enhance the immersive experiences of customers.
StageConnect develops an Event Wall Software
StageConnect is a US-based startup that develops event wall software for virtual hybrid and live events. It offers a flexible display view option that adapts to multiple types of events, be it a stage, studio, or venue. Its StageConnect Pro platform aggregates user data on the cloud and provides multiple video wall outputs that also allow attendee player controls. StageConnect works with concerts, award shows, seminars, and user conferences to offer a dynamic display experience.
Jiangsu Suchuan Technology produces Ultra-Thin Flexible Glass Substrate
Chinese startup Jiangsu Suchuan Technology manufactures ultra-thin flexible glass substrates. It offers S-type, U-type, G-type, O-type, and W-type flexible displays that are stored in reels, pulls stack, and folds. It uses ultra-thin flexible glass as a core substrate for manufacturing bendable, rollable, and fully flexible displays. The startup produces human-computer interaction products like folding smartphones, applications for cars, robots, and complex housewares. Jiangsu Suchuan Technology caters to smart fashion, smart travel, smart education, and smart offices with its intelligent display solutions.
Holoptic enables Human-Centric AR Devices
Holoptic is a startup from the US that manufactures hologram solutions for flexible displays and AR devices. It enables the conversion of optical components with transparency and curved displays. This allows manufacturers to design, for example, smart glasses and heads-up displays. The startup offers HoloCore, a hologram product to replace heavy optics with lightweight and thin holograms. In addition to holography, Holoptic supports the aerospace, defense, and commercial sectors by providing laser and electro-optics, nanotechnologies, and sensor solutions.
Changhuo Microelectronics offers Microelectron Films
Chinese startup Changhuo Microelectronics offers professional process solutions for microelectronic films. It offers nano-grade non-micro-crystal silicon, low-temperature amorphous silicon, and flexible silicon film for photovoltaic batteries, as well as LCD and TFT panels. The startup offers a flexible OLED display with inorganic, organic, and composite encapsulation and layers on top. This enables Changhuo Microelectronics in achieving good density and thinness for improved hydroxy barrier performance.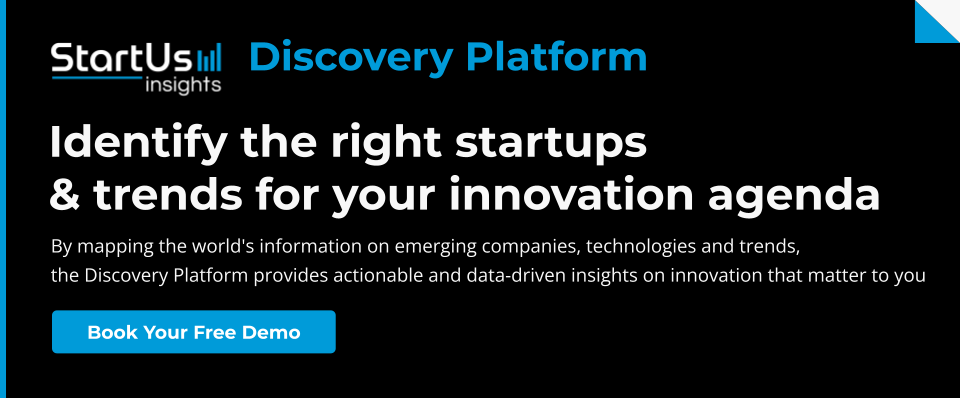 Xander provides Real-Time Subtitles on Smart Glasses
US-based startup Xander uses AR solutions for subtitle displays to enhance in-person communication between individuals, families, and groups affected by hearing loss. It offers XanderGlasses, a smart glass that combines AR and sensors for a heads-up caption display of real-time communication. The glasses feature a flexible and lightweight design and allow users to follow conversations by directly looking at the speaker and surroundings. The SOC2 and HIPAA-compliant solutions also enable users to save and access conversations privately and identify the person speaking.
Pixee enables Flexible Screen Interaction Solutions
Pixee is a startup from Belgium that provides software solutions to extend IPTV and digital signage functions to multiple flexible displays and devices. The solution creates a network of dynamic screens and connects audiences in a virtual environment to enhance user experience. It utlizies system-on-chip technology in its software to install and connect individual screens that also offer personalized control. This enables Pixee to apply the solutions for navigation through buildings, scheduling content, advertising displays, and playback TV recordings.
Visible SA manufactures AI-powered Telepresence Device
Visible SA is a startup from Switzerland that manufactures AI-powered, 360° telepresence devices for immersive business and commercial applications. It allows colleagues to connect remotely with continuous visuals of all participants in a collaborative setup. The startup offers KOH and KOH V2, 360° devices with four flexible displays for huddle rooms, as well as medium and large meeting rooms. Visible's devices feature smart framing, cameras, and advanced AI algorithms to enable circular displays for meeting rooms.
SEED provides Ultra-Thin Flexible Glass
SEED is a startup from China that manufactures ultra-thin flexible glasses and materials for new display applications. It offers Z-type, L-type, G-type, and @-type display solutions for smartphones and wearable devices. The glasses feature good light transmission, high strength, bending, and good resilience in smart devices and flexible folding terminals. The startup also offers AG Glass, a glare-free flexible glass solution to reduce display surface reflections for clear display effects. SEED enables smartphone, smart wearable, and display manufacturers to provide strong, anti-UV, anti-sunlight, and insulated display devices.
Freetouch offers Touchless Interface for Connected Displays
Freetouch is a startup from the US that offers a touchless interface for connected displays like kiosks. It supports passive digital signage, curved and projection-based displays, as well as LED and ultra-large displays. The startup offers touch-free and large-scale interactivity with a multi-user interface and enhances accessibility to mobility-impaired users. Freetouch enables transportation companies, museums, public attractions, and retail sectors to add interactivity to their ads and displays.
Discover All Emerging Flexible Displays Startups
The flexible dispalys startups showcased in this report are only a small sample of all startups we identified through our data-driven startup scouting approach. Download our free Industry Innovation Reports for a broad overview of the industry or get in touch for quick & exhaustive research on the latest technologies & emerging solutions that will impact your company in 2023!
Looking for display startups & technologies?
✕